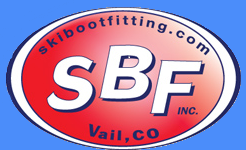 POWDER DAY! Greg and Ellen skiing at Vail in April, 2010.
Video courtesy of Mark Ettenger and Randy "Chief" Nelstead.
How Boot Fit and Function
Affect Student Success
by Greg Hoffmann and Ellen Post Foster
This article originally appeared in the fall 2010 issue of 32 Degrees: The Journal of Professional Ski Instructors and is posted here with permission of the American Snowsports Education Association.
Click on article to read.